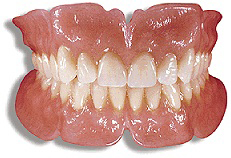 CARING FOR YOUR DENTURES
How should you care for your dentures?

Some suggestions for proper denture care are:
• ALWAYS rinse your dentures inside and outside after each meal.
• ALWAYS clean inside and out with a soft denture brush and a
mild soap before putting them in your mouth in the morning and after taking them out at night.
• ALWAYS put your dentures in water with or without denture cleanser at night. Follow cleanser instructions.
• ALWAYS clean your dentures over a soft surface or basin of water. This will help avoid breakage if dropped.
• ALWAYS massage your gums morning and night with a soft brush or cotton gauze.
• ALWAYS see your dentist for any denture adjustment.
• NEVER use scouring powders or strong detergents. These may damage the dentures.
• NEVER put your dentures in hot water.
• NEVER let your dentures dry out.
• NEVER use adhesives unless advised to do so by your dentist.
• NEVER attempt to adjust, repair, or refit your denture yourself.