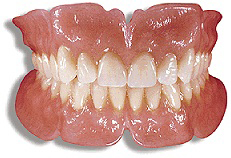 If you've lost all of your natural teeth, whether from periodontal disease, tooth decay or injury, complete dentures can replace your missing teeth and your smile. Replacing missing teeth will benefit your appearance and your health. Without support from the denture, facial muscles sag, making a person look older. You'll be able to eat and speak—things that people often take for granted until their natural teeth are lost.
Today's technology allows us to create a smile that is natural and confident. A denture doesn't have to look like a denture any more. High quality teeth made with layers of different acrylics are as close to your natural teeth as can be. It is nearly impossible to tell them from the real thing allowing you to smile with complete confidence.
A complete denture is removable and is prescribed when all the teeth in one or both of your arches are missing. These dentures are indicated for people without any teeth and are designed to replace all the teeth in the upper or lower jaw .The dentures take support from the underlying tissues, and therefore special emphasis is laid on the overall health and hygiene in the mouth.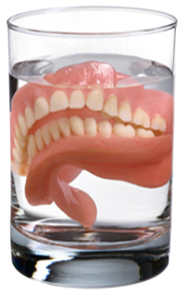 Complete dentures usually take around 6 to 7 appointments, and are done by a specialist in our clinic. We use imported teeth with highly esthetic resin to get a natural effect. The teeth and dentures are characterized to make them look natural.
BPS® DENTURES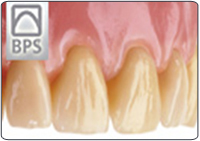 BPS® Dentures are precision dentures that provide optimum function while eating, speaking or laughing. Ivoclar teeth are natural like teeth that recreate the character of your smile. They are made of three layers of cross linked or double cross linked acrylic reins that contribute to their life like appearance and well known resistance to wear, so your dentures last longer.
BPS® Dentures are made to restore the natural look of your lips and support of your facial muscles.
BPS® Dentures are extremely life-like, comfortable, functional and durable.

Advantages:

• Reduced irritation to the gums from free monomer as there is complete polymerization.

• Strong - extremely dense material reduces the chances of breakage. Dentures are guaranteed against breakage for two years.

• Clean – because of the injection moulding process used in processing the denture, the denture base becomes non porous limiting the traditional odour expected from dentures.

• Accuracy – again, due to the injection moulding process, conventional dimensional changes do not occur. Dentures are accurate and they fit as expected.

• Health – because BPS dentures are accurate, none irritating, comfortable, aesthetically pleasing, patients can eat better than conventional dentures.

• Esthetics – Due to the natural appearance of Ivoclar teeth, resistance to wear and the attention to detail and precision incorporated during the construction of the dentures, dentures appear as natural as possible, so patients can smile, speak and laugh with confidence

• Fit - due to extreme care incorporated in the construction of the dentures, it results into a better fitting, more comfortable prostheses (dentures that will require fewer adjustment appointments)

• Normally BPS® Dentures require 5 – 7 Appointments, however the number of appointments could be reduced to four appointments only, but the time per appointment will increase accordingly.