Invisalign® uses a series of nearly undetectable aligners instead of brackets and wires. So up close it's really hard for people to tell you're wearing Invisalign®. This treatment can give you the smile you've always wanted without braces you've always avoided.
Because there are no metal wires and brackets, Invisalign® is more comfortable than traditional braces. And because they are removable, eating, brushing and flossing is no problem.
You can still enjoy your favourite foods and smile without holding back. With Invisalign®, there's nothing to hide.
Proven Results
In both clinical research and in orthodontic practices nationwide, Invisalign® has been proven effective at straightening teeth. Treatment takes about the length of time as traditional braces and is far more comfortable. Thousands of patients are taking advantage of this revolutionary treatment.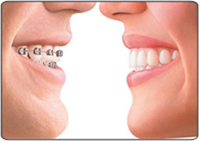 The Orthodontist will complete further diagnostic analysis to verify that Invisalign® will work for you and create a treatment plan that will determine exactly how the teeth are straightened. When the treatment plan is complete, your records will be sent to Invisalign® along with the orthodontist's instructions. Using the latest advances in 3-D computer technology, Invisalign® will translate the orthodontist's instructions into a series of precisely customized aligners.
You will wear each set of aligners for about two weeks. Each set of aligners will gradually move your teeth closer and closer to the desired result. You will need to wear these aligners all the time except when you are eating, drinking, or cleaning your teeth.
Throughout treatment, we will arrange for check-up appointments about every six weeks to make sure that treatment is progressing as predicted. Our consulting orthodontist will also follow your treatment by reviewing new digital photographs of your teeth. As treatment nears completion, the orthodontist will design a retention plan to help you keep your smile for life.