Traditional placement of implants was a two-stage procedure. The implant was placed and allowed to integrate, and then a second-stage surgery was done to "uncover" the implant with a transmucosal abutment. Implants are now being done as a single-stage surgery, eliminating the osseointegration needed for a second surgery. This has made it easier for the patient and saves time for the treatment.

Immediate Replacement of missing central incisor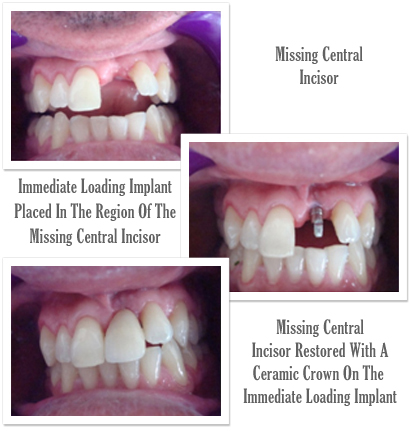 Benefits of Immediate Function Dental Implants:
• Flapless and painless and a minor procedure.

• Simple and good predictability from a surgical perspective.

• Well balanced and stable foundation for teeth.

• Attractive, natural looking teeth in a short period of time .

• No healing time required prior to functioning.

• Fast , fixed and cost effective.

• This is a single stage procedure and all the treatment can be completed within a single visit eliminating the need for a second visit.

• This saves you the time and money required for the second visit as done in traditional implant procedure.

You can eat immediately after placement of implants and teeth/ fixed prosthesis
FULL MOUTH REHABILITATION WITH IMMEDIATE LOADING IMPLANTS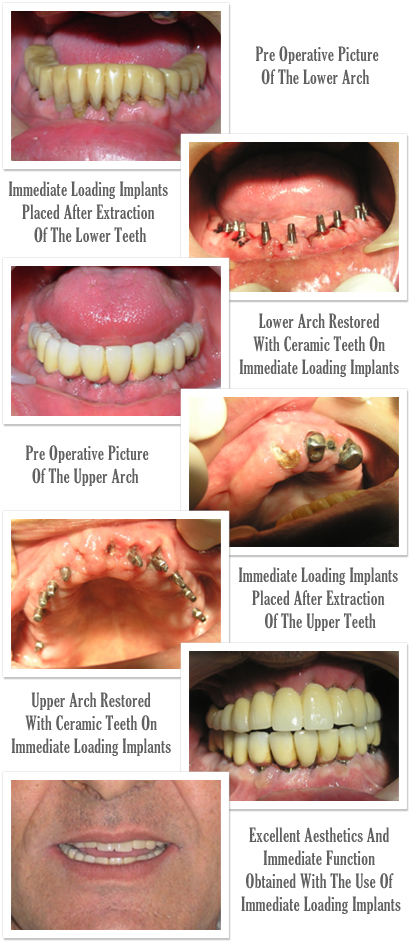 Immediate Replacement of missing anterior teeth and gum defect with implant retained fixed partial denture