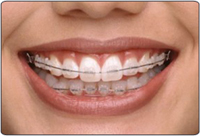 Orthodontic treatment or braces is the treatment of choice to correct the malpositioned or crooked teeth, without altering the natural shape of the teeth.This is also the most effective treatment for most bite (occlusion) related problems.
In our clinic the Orthodontic treatment is done by a specialist orthodontist.
We use different orthodontic systems which are popularly used worldwide.All the systems being used are available in the form of durable metal braces or as highly esthetic tooth colored ceramic braces.
Metal Braces are the most common type. They are made of high grade stainless steel. Today's metal braces are smaller, more comfortable, and more attractive. Traditional metal braces are the first choice for most patients. These braces usually are the most durable and tend to move the teeth most efficiently, resulting in shorter treatment time.
Ceramic braces are made of translucent (clear) material. They are most popular with adult patients, due to their cosmetic appeal. Clear braces are much less visible than other types of brackets, especially when coupled with white wires, but they also are less durable, which means that treatment can take a little longer. The only drawback to ceramic brackets are that they are more fragile and the elastic ties can discolor between orthodontic visits.The different systems being used in our clinic are:-
• ROTH system - this is one of the most popular and practical systems being used all over the world,with very high degree of patient comfort.This system can be fixed in Goa and the follow ups can be done any where in the world, as this is a standard universally accepted system.Tooth colored ROTH braces are very popular as there is very little display of metal

• MBT system - This is fast becoming one of the most popular systems being used in the world.This is also available in the metal as well as tooth colored (ceramic) brackets.

• Speed system - As the name suggests,this system is especially suited for patients who want to finish their orthodontic treatment fast as treatment time can be reduced by as much as 50%.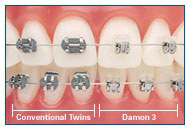 • Damon III system - (ormco co.,U.S.A) This system is the latest among the speed systems,This is the fastest and most esthetic ceramic braces.
• Inspire system(ormco co. ,U.S.A) - These are the latest beautiful tooth colored ceramic brackets which look like jewels on the teeth.

• Multicolored braces for children are also popular.
• Gold braces are becoming increasingly popular. These fashionable gold plated braces are considered as'jewellery for the teeth'.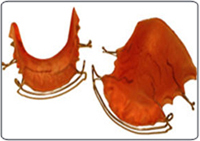 It is important to know that if time is not a decisive factor, orthodontic treatment is always prefered over other restorative or esthetic procedures as it is more permanent and long lasting and contributes to maintainence of the health of the orofacial structures.
Orthodontic treatment must be done by a specialist orthodontist,as improper treatment can have deliterious effects and long lasting consequences.
The success of the orthodontic treatment also depends on the retention phase when the patient has to wear the retainers as advised by the orthodontist,as the teeth may return to their original positions if the retainers are not worn.