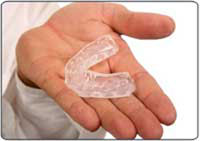 These are appliances worn while playing contact sports, and they ensure saftey of the teeth by providing a cushioning effect.
Sports (athletic) mouth guards are plastic dental appliances which when worn can provide a degree of protection for both the soft tissues (lips, cheeks, gums, tongue) and hard tissues (teeth and jaw bones) of the mouth. Anyone who participates in a sport that carries a significant risk of injury should wear a mouth protector. This includes a wide range of sports like football, hockey, basketball, baseball, gymnastics, and volleyball. Mouth protectors, which typically cover the upper teeth, can cushion a blow to the face, minimizing the risk of broken teeth and injuries to the soft tissues of the mouth. If you wear braces or another fixed dental appliance on your lower jaw, you may need a mouth protector for these teeth as well.
A properly fitted mouth guard can help prevent broken teeth and injuries to the lips, tongue, face or jaw.
While all mouth guards are made of plastic their specific design, composition, and method of fabrication vary. Mouth guards are usually custom made specifically for you. This will fit comfortably and offer the best protection for your smile. A properly fitted mouth protector will stay in place while you are wearing it, making it easy for you to talk and breathe.